Welcome back to Consumer $ense! This time of year, the competition between retailers is HUGE forcing them to pull out all the stops and try to grab your attention with "great sales", but how can you tell a good sale from one that's TOO good to be true? Here at C$, we've broken down the most common retailer techniques so you have some inside information as you finish up your holiday shopping.
---
With Thanksgiving so late this year, it seems the holiday shopping season is shorter than normal. But that doesn't mean sales are expected to be less, they are actually expected to rise as nearly 40% of us consumers started our holiday shopping even before Halloween, according to the National Retail Federation.
In anticipation of this short season we're in the midst of, retailers started their sales and promotions early to entice shoppers to get in as much shopping as possible.
Sales force compiled their 2019 holiday shopping predictions and found that 47% of shoppers go so far as saying they'll only buy items on sale this holiday. Shoppers also say sales or promo codes are the #1 factor influencing their holiday purchases. A full 67% of shoppers say they plan to buy more from online marketplaces like Amazon during the 2019 holiday season. 
With deals coming at you from so many different platforms this year, it's important to recognize which ones may be too good to be true and are a disguise for making you spend more than you originally wanted to.
Here, we've rounded up five common techniques retailers will be using this year to make more money from consumers so that you have a good idea of what to watch out for to stay focused and on budget
1. Some retailers originally price their items high only to discount them to a more regular price, making it seem like you're getting a great deal when in reality the discounted price should be the original. When you get to the checkout, they inform you on how much money you saved from those discounts, further convincing you that you made snagged some "great deals". Don't fall victim to these schemes, instead pay attention to the actual value of the item compared to the price, disregarding what may seem like a great discount. If even the sale price isn't worth it, pass on the item and search somewhere else. 
2. Recently, online shopping has taken up a bulk of our holiday purchases because of its convenience and large selection. One way e-commerce sites like to bribe you into buying more is through personalization. Online retailers utilize personalization with specific images and promotions to grab your attention and give you suggestions on other products to buy based on previous purchases and personal information. If you want to avoid unneccessary purchases, avoid the "other items you might love" section or "typically bought together" which are geared towards your preferences. Unless you need them or see one you like as a gift, stay focused and don't wander from your list or budget.
3. As if your inbox isn't already flooded with emails on a regular basis, retailers amp up their email marketing during the holidays and us consumers are more willing to open emails from businesses during this season to see if they hold any good deals. Campaign Montior advised retailers to include trigger words in their subject lines to boost sales such as "Hot deal, promotion, discount, savings, free shipping". They also include buttons in their email to purchase on the spot. Don't get sucked into the emails, especially the ones urging you to act fast, they can be tricky and need to be dissected more carefully. Choose the emails that mention a deal in the subject line, but look into the deal rather than buying impulsively because it seems awesome in an email.  
4. Although online shopping is huge, the NRF says that 47% of us shop in stores during the holidays to get ideas. With this statistic in mind, retailers plan to strategically place items and discounts to entice purchases in store. Most people think, this product is right here and it is convenient to buy now, whether or not they can find a cheaper alternative online. In store, retailers will offer tiered discounting, encouraging them to buy multiple products at once. The discount may seem like a good deal, but not if you only need 1 gift, not 3 of the exact same thing. If you don't need it, don't feel obligated to take the offer.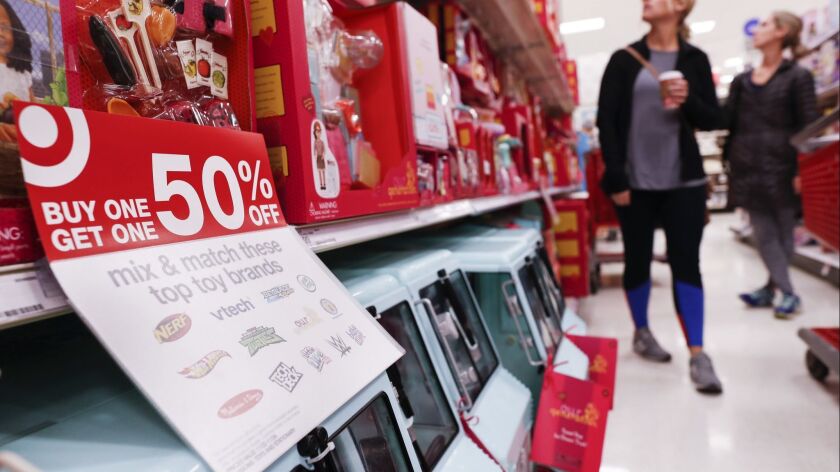 5. Beware of social media. Brands are now utilizing influencers on social media to promote their products, especially during the holiday season. We are all familiar with influencers in this social media world, and their collaborations with brands significantly increase during the holiday season. Amazon for example, partnered with two popular YouTubers who showed their content in a video to show their large audience the benefits of Amazon Prime. Instagram is another platform where influencers promote brands' products, and more and more retailers are budgeting for this kind of marketing, as influencer marketing grew to $4.6 billion in 2018. Just because your favorite fitness guru has it, doesn't mean you need to have it too, especially not without checking other reviews first.
---
And there you have it- our top tips for staying on track this holiday shopping season and making sure your favorite retailers don't get the best of you and your wallet.
From all of us here at Consumer $ense- Merry Christmas and happy shopping!